Accessibility
The Heart of Entertainment in Gladstone –
Accessible to All
As a guest at Gladstone Entertainment Convention Centre, your comfort and safety are our highest priority. We're working hard to ensure your visit with us is hassle-free – so you're free to just have fun!
We're committed to providing an inclusive and accessible venue so that everyone who attends the GECC feels welcome. Our staff and volunteers are on hand to ensure you enjoy a truly memorable event.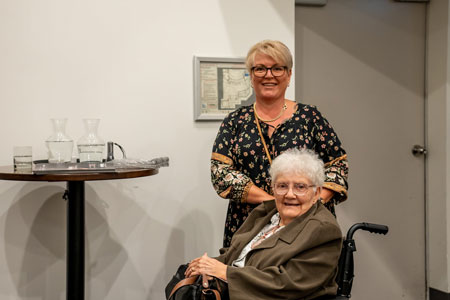 Accessing the theatre, facilities and event spaces
GECC provides wheelchair friendly parking facilities and easy accessibility into our building. The GECC multi-story carpark has dedicated disability parking spaces and is serviced by three elevators providing level entry, direct access to the building through the double glass doors into Lobby B. Wheelchair access is also available via the Goondoon Street entry, with easy and obstruction-free access to our wheelchair friendly parking facilities.

Once inside GECC, accessible toilets are available off the foyer area and all event spaces can be accessed via ramp or lift.

The GECC Bar, Box Office and Merch Desk areas are open and obstruction-free for wheelchair and mobility aids. Have a question or need a little help? Our trained staff and ushers can be found on the GECC floor, at the back Lobby and Foyer entrance. Please don't hesitate to ask them for assistance. Our staff are here to make your visit as smooth and enjoyable as possible.

The GECC theatre offers wheelchair friendly seating with 100 per cent unobstructed views of the stage area and orchestral pit so you won't miss a thing.

The centre also provides regularly spaced seated areas, water bubblers and comfortable, supportive lounge chairs in the bar and lounging area.

GECC's accessible facilities combined with our friendly staff and passionate volunteers make us the first choice for wheelchair friendly venues in regional Queensland. Your event will have full accessibility for all your patrons, regardless of the event space you choose at our venue. And accessibility doesn't stop at the front of house – we offer easy access backstage, too. Learn more about all our event spaces.

GECC participate in the Companion Card Scheme to ensuer an equitable approach to admission arrangements for people with a disability who require the support of a carer or compaion. The Companion Card Scheme allows the Companion Cardholder's Carer admission to shows at GECC at no charge. To arrange your ticket, please contact our team during office hours, prior to the event.

We're committed to supporting parents and kids so that your visit with us runs smoothly. Park off the street and undercover at the GECC multi-story carpark – you'll love the direct elevator access to Lobby B. Alternatively, parking spaces are available in the Goondoon Street parking area with ramp access into GECC. Our ushers are always standing by to offer assistance. You'll find baby change facilities in the accessible toilet area.

Our ushers are always on hand to assist patrons finding their seats.

All of our conference rooms and business spaces can be modified for greater accessibility. If you're planning an accessible event, contact our events team to discuss your specific requirements.

Unfortunately, GECC is not fitted with hearing assistance systems. We are looking to make improvements in this space and you'll be the first to know when we do!

Upon the promoter's advance advice, any shows that feature strobe lighting and intrusive sound will include a warning over the public announcement system prior to commencement.

We welcome all visitors to our venue and understand that attending a show can be a sensory overload. Our ushers can help you find a calm space should you, or your child feel overwhelmed.

The GECC's main toilet facilities are fully signed and located just off the main foyer. There are additional toilet facilities in the hall lobby area. These include accessible facilities. Gender-neutral toilet facilities are located at lightbox. espresso + wine bar. The ground floor parking amenities contains changing facilities and a wheelchair accessible toilet.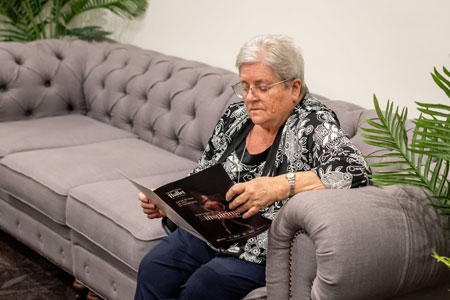 We strive to be Queensland's most accessible venue
Our staff and volunteers are here to make your visit to the GECC a fun and stress-free experience and we are working hard to provide a truly inclusive venue for regional Queensland events. If you have any questions or concerns about accessing our venue, please get in touch prior to visiting us so that we can assist.
When we say everyone is welcome at the GECC, we mean it.