Our Spaces
Our Event Spaces
Celebrate, connect and make a lasting impression at the Gladstone Entertainment Convention Centre. We're recognised as one of the best entertainment venues in the regional Queensland and host a diverse range of unforgettable events every year. Conferences and exhibitions, business meetings and seminars, elegant gala dinners, showstopping concerts and theatre performances, and dream-come-true weddings – they're all at home at the GECC!
GECC offers a range of multi-functional event spaces, all equipped with modern, stylish facilities and fitted with full event functionality for business or entertainment. All GECC spaces can be configured and themed to suit your event. And it's not just our dynamic spaces that cleverly adapt. Our dedicated events team use innovation and experience to meet any challenge so that your event is a stunning success.
Make your event more than memorable - make it exceptional at GECC.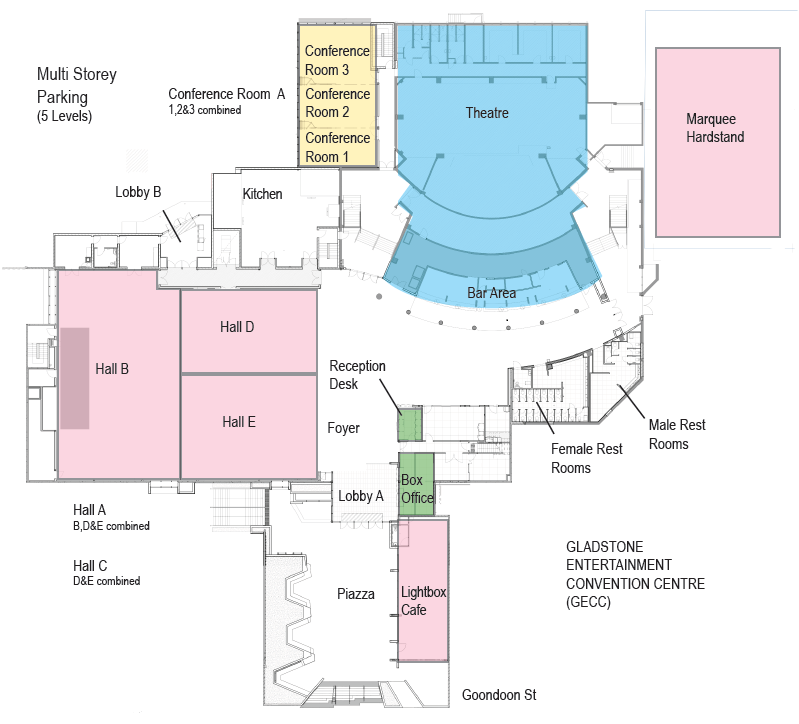 Bright and airy, our Halls provide an ideal space for your next event or special occasion. We currently have six configurations available for our hall spaces designed to comfortably accommodate gatherings of varying sizes.

Our talented technicians can design and implement an exclusive audio-visual and lighting experience in the Halls, tailored to your event and entertainment needs. The Halls also provide access to Green Rooms and offer flexible tech options with a fleet of more than 100 intelligent moving lights and a concert-quality PA.

Hall B, Hall D and Hall E are the main halls, and these are conveniently located adjacent to the foyer and just to the left of the main building entry on Goondoon Street.

Hall C is a combination of Hall D and Hall E
Hall A is a combination of all three to provide a much larger space
Hall F is the largest available space, combining Hall B, D and E and the foyer. Hall F can also accommodate trade booths when used as an exhibition centre and this represents our largest entertainment centre capacity.

Size: varies from 192sqm to 1127m2

Capacity: 80 to 1000

Hall E – 80 (cabaret) to 170 (cocktail)
Hall D – 80 (cabaret) to 170 (cocktail)
Hall C – 200 (cabaret) to 350 (cocktail)
Hall B – 96 (cabaret) to 280 (cocktail)
Hall A – 320 (cabaret) to 650 (cocktail)
Hall F – 400 (cabaret) to 1000 (cocktail)

GECC offers three conference rooms, all with great natural lighting and comfortable, modern facilities.

Hire one room, two, or all three combined, depending on the number of people attending your conference. Enjoy access to the best technology and IT solutions, delicious catering options, and event marketing support. The conference rooms also have fully soundproof operable walls to break the space between rooms for privacy and quality purposes.

Size: 50sqm to 174sqm

Capacity: 18 to 100

Conference Room 1 – 18 (u-shape), 24 (classroom), 30 (cocktail)
Conference Room 2 – 18 (u-shape), 24 (classroom), 30 (cocktail)
Conference Room 3 – 24 (u-shape), 34 (classroom), 50 (cocktail)
Conference Room A (combination) – 66 (u-shape), 90 (classroom), 100 (cocktail)

Host your team of up to 12 people in our modern board room. Equipped with a TV, Skype and Microsoft Teams capability, and charging points for laptops, it's the perfect space for small meetings. And if our complimentary notepads and pens don't impress your team, then the Mentos surely will!

Size: 36sqm

Capacity: 12 people

Transform our foyer and bar into the ideal space for your next personal or professional event or celebration. The GECC foyer is ideal for cocktail functions, networking events and product launches, and comes with modern, stylish furniture that can be customised and decorated to suit your occasion. We have 10 television monitors for convenience, and you'll enjoy direct access to the bar, as well as toilet facilities and the Piazza.

Size: 461sqm

Capacity: 80 (cabaret) to 430 (cocktail)

Treading the boards at the GECC is not just for the theatrically inclined among us. Our theatre stage is available to hire in a variety of configurations, making it suitable for a range of events – no showtunes required! Engage your conference attendees with a U-shape boardroom-style layout. Our theatre stage also works for a cocktail-style gathering for birthday parties and weddings.

Size: 250sqm

Capacity: 70 (u-shape) to 150 (cocktail)

An ideal space for conferences with guest speakers, theatrical productions, ceremonies, recitals, seminars, music concerts, and much more – the theatre auditorium provides comfortable seating with 100 per cent forward-facing, unobstructed views for hundreds of guests. Equipped with leading production equipment, sound and lighting experts as required, double blend projection theatre (13m x 7m), and hydraulic orchestra pit, events held in our auditorium are a sight to behold. Need marketing assistance? Our talented team can help.

Size: N/A

Capacity: 674

The GECC and Lightbox Piazza is the ideal location for an intimate gathering or to entertain guests for your special occasion. This stunning outdoor space is part of the newly renovated façade and it can be sectioned, themed, and serviced to suit your requirements.
Get in touch to book a space, get a quote, or discuss your event with our team.

Our dynamic and adaptable spaces allow us to cater to any event for up to 1000 people and hold multiple events simultaneously. We offer a variety of services in addition to venue hire.
You may also be interested in…